OptiMate is an innovative and reliable electronic metering system that has been built with the operator in mind and supports you with your busy delivery demands. OptiMate was launched in 2016 and has been successfully in operation for five years, here we detail the top five benefits of OptiMate.
1. Automatic product load entry
Via our bespoke and unique smart product grade indicator system (SPGI)
No manual entry process is required, reduces keying errors, and saves time
OptiMate recalls the last product delivered and using our SPGI system, OptiMate will only present the compartments containing the same product and prevents a contamination from occurring.
2. Fully automated line change procedure
OptiMate stores the calibrated short and long volumes of line changes
No requirements for driver calculations or guesswork
With OptiMate, drivers can successfully perform a line change at the point of delivery, without causing a contamination or returning to the vehicle to enact the process.
3. Automatic compartment follow-on
OptiMate allows drivers to perform a delivery from multiple compartments containing the same product
Increasing driver efficiency as no return trips to the vehicle are required
A fully automated process that prevents overspills, contamination and saves time.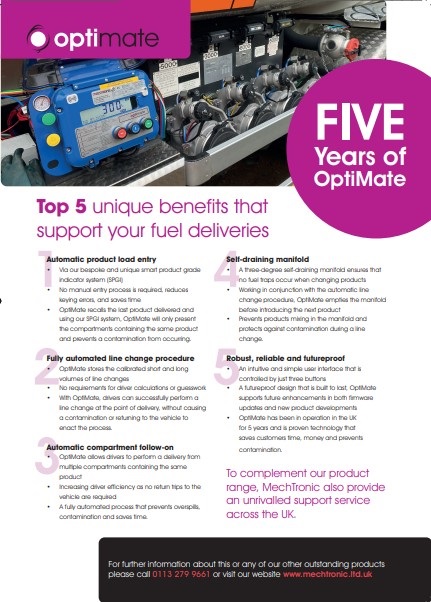 4. Self-draining manifold
A three-degree self-draining manifold ensures that no fuel traps occur when changing products
Working in conjunction with the automatic line change procedure, OptiMate empties the manifold before introducing the next product
Prevents products mixing in the manifold and protects against contamination during a line change.
5. Robust, reliable and futureproof
An intuitive and simple user interface that is controlled by just three buttons
A futureproof design that is built to last, OptiMate supports future enhancements in both firmware updates and new product developments
OptiMate has been in operation in the UK for 5 years and is proven technology that saves customers time, money and prevents contamination.
To complement our product range, MechTronic also provide an unrivalled support service across the UK. To see how we can help your business, please contact us.